CHAMBER PROFESSIONAL STAFF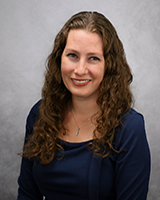 Rebekah Arthur
President & CEO
In January 2023, Rebekah Arthur was named the chamber's president and CEO, overseeing all aspects of operations of the Seminole County Chamber.
Prior to that, she served as the chamber's executive vice president, overseeing the day-to-day operations and as the vice president of programming, overseeing chamber initiatives outside of membership.
Since she joined the chamber in 2014, she has overseen the growth of the chamber's signature events, growing revenue, attendance and prestige for Riverside Dash, State of the County, Seminole Business Awards and much more.
In 2022 Rebekah graduated from the U.S. Chamber of Commerce's four-year program, the Institute for Organizational Management. The Orlando Business Journal also recognized her as part of the 2022 40 Under 40 Class.
Rebekah's efforts have also been recognized by two national organizations. The Association of Chamber of Commerce Executives named her social media ambassador program for Riverside Dash as one of the best in the country. Then, Chamber Power Tip featured Rebekah when talking about the "I'm Here" program she developed with Kristina Peacock.
Rebekah has always given back to the community. She currently sits on the board of directors of Business Force, Florida Association of Chamber Professionals and Leadership Seminole. She is a past board member of the Casselberry Chamber of Commerce, serving as the second vice president of the board.
Also, through her church, she has participated in mission trips to places like Jamaica and Costa Rica. She's volunteered at Frontline Rescue and Pet Rescue by Judy. She has also fostered dogs who need homes.
In her personal time, Rebekah spends time with her husband, Jason, and their daughter Christine. The three are often found on the boat enjoying Florida's waterways.
Rebekah can be reached at 407-708-4604 or via email.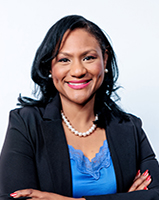 Nicolet Severe
Vice President of Operations
Nicolet Severe joined the Chamber in February 2023 as the vice president of operations of the Seminole County Chamber.   
Severe brings experience in outreach, public relations, business development, tourism, and government relations. She was an executive for the Sanford Chamber and worked as a Partnership Specialist for the U. S. Department of Commerce, assigned to Seminole, Brevard, and Orange Counties. She also has worked for the Institute of Internal Auditors, Visit Orlando, the Hispanic Business Initiative Fund (now Prospera), and the Puerto Rico Convention Bureau.
Nicolet is currently a board member of the Central Florida Zoo. She is presently a class member of Leadership Seminole Class 32. In 2022, Severe was an iLatina Making a Difference award nominee by the Volusia Hispanic Chamber. She completed an MBA in Business Administration & Marketing and a BA of Arts in Communications, Public Relations, and Advertising. 
Nicolet enjoys traveling and exploring new destinations. She loves visiting museums to learn about other cultures and history.
Nicolet can be reached at 407-708-4605 or via email.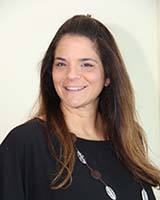 Dena Hansen
Director of Membership
Dena Hansen was named director of membership in 2022 and is tasked with growing the Seminole County Chamber while establishing tight bonds with the community.
Dena is a well-established sales associate in the Seminole County area, having spent several years in her previous role working in and selling telecommunication products and services to local companies for CenturyLink (newly named Lumen).  Throughout her career, she has enjoyed building new relationships and adding value to help others.
Prior to that, Dena has worked for various organizations, assisting with sales and community outreach.
Dena originally hails from New York, where she graduated from Oswego State University with a degree in Psychology.  When not in the office, she loves to spend time with her husband and two children, family, and friends, golfing and exercising.
Dena can be reached at 321-239-0517 or via email.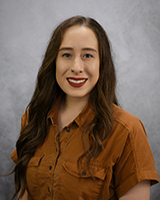 Emalynn Johnson
Director of Events
Emalynn Johnson joined the Chamber in November 2022 as the Event Coordinator and was named the Director of Events in February 2022. In this role, she is responsible for all aspects of our event programs, which has more than 200 different events each year.
Emalynn has been working in the events industry since 2013 and graduated from Northern Arizona University (NAU) in December of 2018 with a bachelor of science degree in hotel and restaurant management with an emphasis in event management and a minor in business.
Before getting involved with the Chamber, Emalynn was a part of two local event-planning companies while in school. Upon graduation, she moved to Florida to work for the Walt Disney Co. and later became the catering and food and beverage supervisor at the Wyndham Lake Buena Vista.
Emalynn was raised in Chandler, Arizona where she lived until moving to the Orlando area in 2019. Her hobbies include making connections with friends and new people, music, and fitness and health. Emalynn looks forward to meeting new people and fostering happiness and camaraderie through chamber events.
Emalynn can be reached at 407-708-4613 or via email.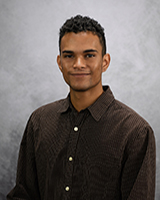 Jonathan Prieto
Event Coordinator
Jonathan Prieto joined the chamber in June 2021 as the new Administrative Assistant and was named the Event Coordinator in February 2023. In this role, Jonathan is responsible for overseeing the planning of events within the seven Area Councils, as well as other monthly events such as ChamberU, Business After Hours, and Member Ribbon Cutting Events.
Prior to joining the chamber, Jonathan was a Key Holder for the retail company Abercrombie and Fitch. During his time there he was responsible for the growth and development of the new staff members, managing specific metrics to ensure the business was profitable, ensuring positive customer experiences, as well as maintaining a positive trend for the growth of all metrics.
Jonathan is currently enrolled at the University of Central Florida pursuing a degree in Digital Design as well as graduating in the Spring of 2023. In addition to an academic path with UCF, he also uses some free time to pursue a certificate with Google in UX/UI Design.
Jonathan was born in Miami and was raised before moving to Central Florida and calling Lake Mary home. As an only child, his free time goes to school, certificates, and spending quality time with friends and family.
Jonathan can be reached at 407-708-4606 or via email.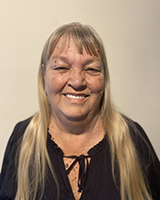 Donna Bardaro
Administrative Assistant 
Donna Bardaro joined the Chamber of Commerce on April 2023 as the Administrative Assistant. Donna has called Seminole County home for over two decades.
Without a doubt, Donna's 20-plus years of experience as a title insurance manager for a title company has sharpened her office management skills. During that time, she oversaw and managed title insurance operations. In addition, she counts on exceptional customer service, a skill required and transferable for her new role, where she will be greeting our Chamber members.
Donna has three daughters and is called "Grandma" by six grandchildren. Bardaro and her family have lived in the Lake Mary area since 1988. She looks forward to building new relationships within the Chamber while enjoying this new adventure and role.
Donna can be reached at 407-708-4606 or via email.
Pam Czopp
Membership Consultant
Pam Czopp started working with the Seminole County Chamber in October 2018 as a membership consultant, but her ties to Seminole County run deep.
She's been one of the chamber's most active members, serving on the Board of Directors and the executive committee. She co-chaired and implemented the start-up of the Altamonte Council, the River Council and the Growth and Engagement Committee, all while volunteering as an Ambassador.
During that time, Czopp worked as an account executive for Lake Mary Life Publications. There, she implemented individualized marketing plans and formulated an approach of imagination and unique presentation for each targeted group and established rapport through networking, professionalism and reputation.
Many people know Pam through her leadership of the Sanford Chamber of Commerce, where she served as executive director for five years. During that time, she Increased membership and revenue during the most difficult of economic times from under 300 to over 500 members. In addition, she added premium membership levels from $1800 to $5000 for the first time in the Chamber's history, to a total of 9 partners.
Prior to that, she was an entrepreneur, owning and operating a special events company for nine years with sales volume exceeding $300,000. She also implemented the start-up of Ladies Fitness Club for six years resulting in sales to over 300 clients through marketing, networking, referral programs and customer rapport in a very competitive market.
Previous experience included positions as convention sales manager and more than 20 years in human resources for multinational corporations such as Johnson & Johnson and L'Oreal & Lancome.
Pam can be reached at 407-325-7444 or via email.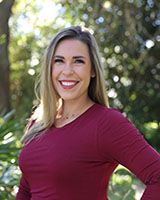 Neota Genske
Finance/Accounting
Neota Genske, MBA, handles outsourced finance and accounting services for the chamber, a role she has held since 2021 as the owner of Genske & Co. Accounting.
She is an award-winning businesswoman, philanthropist and speaker. She inspires and empowers clients, associates and audiences to ignite their passion and pursue greatness.  
Ms. Genske founded Genske & Co., an accounting and HR firm, based in Orlando, Florida.  Genske & Co. is a woman-owned, women-operated firm that focuses on the individual needs, tribulations and successes of companies and organizations. In 2022 Genske & Co. won Seminole County's Best Small Business of the Year and in January 2023 won Best Woman-Owned Business of Central Florida. In February 2023 Ms. Genske won the Orlando Business Journal's prestigious 40 Under 40 award. 
From 2004 – 2012 Ms. Genske worked in accounting and finance for major nonprofits and publicly traded companies while rising through the ranks of corporate America, ultimately reaching VP, Finance at an international nonprofit.  
In 2013 Ms. Genske decided to open Genske & Co. to make her own dreams and dream life become a reality. She became the definition of a hustler entrepreneur with a failure is not an option attitude. 
In 2021 Ms. Genske began speaking at national, regional, and local events. She speaks on tenacity, perseverance, and entrepreneurship. She also speaks at chambers and membership organizations on industry changes and thought leadership pertaining to accounting and HR. 
You can reach her via email or at 321-926-3872
Alan Byrd
Communications/Marketing
Alan Byrd handles outsourced communications and marketing for the chamber, a role he has held since 2010 as the owner of Alan Byrd & Associates. He is also a former board member and chair of both the communications and issues committees.
For more than a decade, Alan Byrd worked for Orlando Business Journal and covered tourism, transportation and sports business - one of the first reporters in the country to cover the business side of sports. As a reporter, he won dozens of local, state, regional and national awards for his stories.His work also included writing for Street & Smith's SportsBusiness Journal as its Central Florida correspondent.
In 2001, Alan was named director of marketing for Orlando Business Journal, where he oversaw the newspaper's events and its growth in circulation. In 2004, the company gave Alan its highest honor, an Eagle Award for Circulation Excellence.
In 2004, Alan Byrd authored his first book, Florida Spring Training: Your Guide to Touring the Grapefruit League. The nationally published book features travel tips and fan-friendly details of every spring training facility in Florida. The book was featured in many major magazines and newspapers, including Money, Newsweek, USAirways Attache, The Boston Globe and the Houston Chronicle.
In 2006, one of Alan's good friends, Michael Waldrop, was called to duty by his country. At the time, Alan and Michael were studying The Purpose Driven Life, and God put it on Alan's heart to join McCree to handle all sales, marketing and public relations.
Finally, in 2009, Alan formed Alan Byrd & Associates, a  public relations and marketing firm, specializing in telling the story of small and medium businesses, non-profit organizations and political figures. The company has worked with dozens of high-profile clients, including Congressman John Mica, the Seminole County Chamber and Buffalo Wild Wings.
Alan can be reached at 407-415-8470 or via email.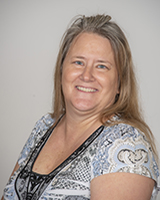 Tammy Shelton
Bookkeeping
Tammy Shelton handles outsourced day-to-day accounting services for the chamber, a role she has held since 2022 as an accountant of Genske & Co. Accounting.
Before joining Genske, she began with a multi-million fertilizer company during her senior year at Winter Park High School in an entry-level position and retired after moving through the company to become Vice President after 31 years. She has over 36 years of accounting and office management experience.
When she is not helping our clients, she loves to spend time with her husband traveling and camping.
Tammy can be reached at 321-926-3872 or via email.