CHAMBER PROFESSIONAL STAFF
Jason Brodeur
President/CEO
Jason Brodeur worked for Procter & Gamble for nearly 12 years before starting his own healthcare consulting company. He has been President/CEO of the Seminole County Chamber since 2013 and currently serves as the Florida State Senator for District 9, covering all of Seminole County.
Jason graduated from University of Florida with a B.S. in Food & Resource Economics in 1997, and earned his MBA from UF in 2003. He was raised in Seminole County, and is a product of their outstanding school system.
He was elected to the Florida House of Representatives in 2010, and spent most of his legislative career as a health care policy and appropriations chairman. He also served as chairman of the Government Operations subcommittee where he focused on pension reform. Prior to his service in the House, Jason received gubernatorial appointments and served on the Medicaid Pharmaceutical and Therapeutics Committee, the 18th Circuit Judicial Nominating Commission, and the Citizen's Safety Task Force.
Jason has been recognized for his legislative achievements by many of the state's leading advocacy groups. He has been named a distinguished advocate by the Florida Chamber of Commerce. The Chamber has also named Jason to their Honor Roll. The Associated Builders and Contractors have twice honored Jason as a "Friend of Free Enterprise," and he was named as the Seminole County Bar Association and Legal Aid Society's legislator of the year in 2012. Jason has also been named the Florida Legislator of the Year by the Florida Coalition for Children, the Children's Home Society, the Breaking the Cycle Institute, and the Champion of the Heart by the Epilepsy Foundation of Florida. In 2016, the Orlando Business Journal named Jason CEO of the Year.
Jason is a member of the Sanford Rotary and attends St. Andrews Chapel in Sanford. He is a tireless advocate for the citizens and businesses of Seminole County, and he views it as a great honor to have served his neighbors in the Florida House of Representatives and in the Seminole County Chamber.
Jason can be reached at 407-708-4610 or via email.
Rebekah Arthur
Executive Vice President
In January 2020, Rebekah Arthur was named the chamber's new Executive Vice President, overseeing all day-to-day operations of the Seminole County Chamber.
Prior to that, she was the Vice President of Programming, which oversees initiatives other than membership. This includes items such as the events department, marketing the chamber and creating additional revenue streams, such as advertising.
Since she joined the chamber in 2014, she has overseen the growth of the chamber's signature events, growing revenue, attendance and prestige for Riverside Dash, State of the County, Seminole Business Awards and much more.
Most recently, Rebekah's efforts were recognized by two national organizations. The Association of Chamber of Commerce Executives named her social media ambassador program for Riverside Dash as one of the best in the country. Then, Chamber Power Tip featured Rebekah when talking about the "I'm Here" program she developed with Kristina O'Leary. As a recognition of her success, she was awarded the Regent Scholarship to the three-year Institute for Organization Management program, held by U.S. Chamber of Commerce Foundation. She recently completed her second year.
Prior to joining the chamber, Rebekah was the manager and event director at the JATO Project in Casselberry. There, she managed some of the region's biggest events, such as the Casselberry Food and Wine Festival and EpisodeM's annual car show, which drew more than 1,000 attendees. Her career in the event management field started as a summer intern at the Festival of Orchestra, while she attended Rollins College. After graduation with a degree in international business, she was named the Festival's event manager.
Rebekah has always given back to the community, through her church she has participated in mission trips in places like Jamaica and Costa Rica. She's volunteered at Frontline Rescue and Pet Rescue by Judy. She has also fostered dogs who need homes. Finally, she is a past board member of the Casselberry Chamber of Commerce, serving as second vice president to the board.
In her personal time, Rebekah spends her time with her husband, Jason, and their daughter Christine. The three are often found on the boat enjoying Florida's waterways.
Rebekah can be reached at 407-708-4604 or via email.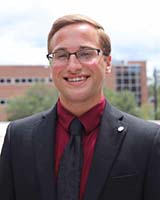 Nathaniel Arner
Director of Events
Nathaniel Arner joined the chamber in March 2021 as the Director of Events. He is responsible for the development and coordination of over 200 chamber events each year.
Nathaniel has been working in the events industry since 2018 and graduated with a Bachelor's degree in Event Management from UCF's Rosen College of Hospitality Management in December 2020.
Prior to joining the chamber, Nathaniel oversaw the event planning team at the UCF Student Union. There, he worked with student organizations, university departments, and public clients to execute a variety of on-campus events in the Student Union's meeting facilities.
As he was preparing to graduate, Nathaniel was awarded the distinct honor of "Key to the Union" for his dedication & impact while leading the Student Union's events department.
Nathaniel was raised in Pensacola, FL where he lived until moving to the Orlando area to begin college at UCF in 2016. He has two siblings: an identical twin brother as well as a younger brother. His free time is often dedicated to live music and his miniature poodle, Wilbur.
A recent addition to the chamber, Nathaniel looks forward to working with our members and creating exciting experiences that will help them connect.
Nathaniel can be reached at 407-708-4602 or via email.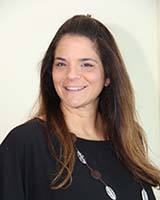 Dena Hansen
Director of Membership
Dena Hansen is the newest member of our team, tasked with growing the Seminole County Chamber while establishing tight bonds with the community.
Dena is a well-established sales associate in the Seminole County area, having spent several years in her previous role working in and selling telecommunication products and services to local companies for CenturyLink (newly named Lumen).  Throughout her career, she has enjoyed building new relationships and adding value to help others.
Prior to that, Dena has worked for various organizations, assisting with sales and community outreach.
Dena originally hails from New York, where she graduated from Oswego State University with a degree in Psychology.  When not in the office, she loves to spend time with her husband and two children, family, and friends, golfing and exercising.
Dena can be reached at 321-239-0517 or via email.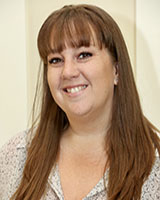 Amanda Ramsburg
Membership Consultant
Amanda Ramsburg joined the chamber in April 2022 as our Membership Consultant. Her main goal will be to bring new businesses to the chamber and help spread community outreach.
Amanda comes from a financial background, having spent over 15 years in the Credit Union field. She brings a concierge approach to fostering relationships in the community and making sure that your membership is working for you. During her time in the financial sector, she was successful in bringing over a million dollars of consumer loan funding in each month. Amanda has been recognized many times in her career for her outstanding service and dedication to members. She is very excited to bring this service to you, and looks forward to serving you and your community!
Originally from Falls Church, VA, Amanda has spent the last 9 years living in Seminole County and raising her 16-year-old daughter. When she is not working, she likes to spend time outdoors enjoying the sunshine and natural beauty of Florida.
Amanda can be reached at 703-798-3206 or via email
Pam Czopp
Membership Consultant
Pam Czopp started working with the Seminole County Chamber in October 2018 as a membership consultant, but her ties to Seminole County run deep.
She's been one of the chamber's most active members, serving on the Board of Directors and the executive committee. She co-chaired and implemented the start-up of the Altamonte Council, the River Council and the Growth and Engagement Committee, all while volunteering as an Ambassador.
During that time, Czopp worked as an account executive for Lake Mary Life Publications. There, she implemented individualized marketing plans and formulated an approach of imagination and unique presentation for each targeted group and established rapport through networking, professionalism and reputation.
Many people know Pam through her leadership of the Sanford Chamber of Commerce, where she served as executive director for five years. During that time, she Increased membership and revenue during the most difficult of economic times from under 300 to over 500 members. In addition, she added premium membership levels from $1800 to $5000 for the first time in the Chamber's history, to a total of 9 partners.
Prior to that, she was an entrepreneur, owning and operating a special events company for nine years with sales volume exceeding $300,000. She also implemented the start-up of Ladies Fitness Club for six years resulting in sales to over 300 clients through marketing, networking, referral programs and customer rapport in a very competitive market.
Previous experience included positions as convention sales manager and more than 20 years in human resources for multinational corporations such as Johnson & Johnson and L'Oreal & Lancome.
Pam can be reached at 407-325-7444 or via email.
Alan Byrd
Communications/Marketing
Alan Byrd handles outsourced communications and marketing for the chamber, a role he has held since 2010 as the owner of Alan Byrd & Associates. He is also a former board member and chair of both the communications and issues committees.
For more than a decade, Alan Byrd worked for Orlando Business Journal and covered tourism, transportation and sports business - one of the first reporters in the country to cover the business side of sports. As a reporter, he won dozens of local, state, regional and national awards for his stories.His work also included writing for Street & Smith's SportsBusiness Journal as its Central Florida correspondent.
In 2001, Alan was named director of marketing for Orlando Business Journal, where he oversaw the newspaper's events and its growth in circulation. In 2004, the company gave Alan its highest honor, an Eagle Award for Circulation Excellence.
In 2004, Alan Byrd authored his first book, Florida Spring Training: Your Guide to Touring the Grapefruit League. The nationally published book features travel tips and fan-friendly details of every spring training facility in Florida. The book was featured in many major magazines and newspapers, including Money, Newsweek, USAirways Attache, The Boston Globe and the Houston Chronicle.
In 2006, one of Alan's good friends, Michael Waldrop, was called to duty by his country. At the time, Alan and Michael were studying The Purpose Driven Life, and God put it on Alan's heart to join McCree to handle all sales, marketing and public relations.
Finally, in 2009, Alan formed Alan Byrd & Associates, a  public relations and marketing firm, specializing in telling the story of small and medium businesses, non-profit organizations and political figures. The company has worked with dozens of high-profile clients, including Congressman John Mica, the Seminole County Chamber and Buffalo Wild Wings.
Alan can be reached at 407-415-8470 or via email.