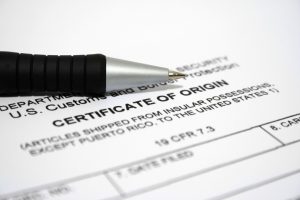 About Certificate of Origin
Certificates of Origin (COOs) hold significant importance for international trade. They are essential documents verifying that the goods within a specific export shipment have been entirely sourced, created, manufactured, or processed within a designated country. Furthermore, these certificates represent a formal declaration made by the exporter.
Every country around the globe considers the origin of imported goods when determining the applicable customs duties or, in some instances, whether the goods are legally eligible for importation. The official responsibility of issuing, endorsing, and sealing Certificates of Origin on a global scale was bestowed upon Chambers of Commerce by the 1923 Geneva Convention.
Requirements:
The Seminole County Chamber has specific requirements to authenticate Certificates of Origin.
Appointments are required. Call 407-708-4605 or email nsevere@seminolebusiness.org
An Affidavit and Indemnification Agreement must be signed and accompany the Certificate of Origin
Certificate of Origin Procedures
Certificate of Origin Affidavit
Members:
One advantage of being a Seminole County Chamber member is unlimited access to Certificate of Origin or Declaration of Origin services. This benefit alone saves our members a significant amount of money and time.
Members are allowed unlimited access to certification services without additional charges.
Non-Members:
Non-members are charged $100 per page for certification services.
Processing Hours
The hours for processing Certificates of Origin will be Monday through Friday 9:00 a.m. to 1:00 p.m. by appointment only, excluding holidays and other office closings. Please call or email ahead to expedite the process at 407-708-4605 or email nsevere@seminolebusiness.org to ensure we can process your request.
More Information: